Hilltop Hall – SUNY Polytechnic Institute at Utica
Designed & Managed by ROCKiT Founder Brian DiPietro while at WTW Architects in Partnership with HKK Architects
The Project:
When the State University of New York (SUNY) decided to build what has become their first zero-net carbon residence hall, they needed to comply with a recent state mandate that all new state-owned buildings meet net-zero energy requirements.
The result is a highly sustainable design-build residence hall that achieved zero-net carbon certification (the first on SUNY's 64 campuses), by designing to Passive House standards. In addition to following the 5 Principles of Passive House, the design/build team leaned heavily on computer-driven energy modeling and calculations. This included using continuous and increased insulation in the walls and roof, upgraded windows, a premium focus on the air barrier, the use of thermal breaks, and increased ventilation with heat recovery.
In doing so, Brian extrapolated how to apply highly sustainable features to buildings in a cost-effective manner that we are proud to offer to all of our clients – ones that may have a 3–5-year payback, depending on project specifics. This project became the foundation of how we present and sell our approach to sustainability with our clients (see pages 59&60 in this article).
Even after all of these building improvements, geothermal wells and a large solar panel array (75,000 SF!) are still necessary to provide all energy necessary for the building to operate without relying on outside power sources.
Standard practice (for Brian) also includes education of the client and incorporation of many successful student housing living learning elements into the building. This includes the design of a main lounge and multipurpose room large and flexible enough for the campus to use for commemoration.
The Story Behind the Design:
Brian's intention for the building design is meant to symbolize the marriage of technology (metal panels), nature (wood), and the manmade/built environment (brick) in the new building, as a sign of hope & inspiration for the building's residents.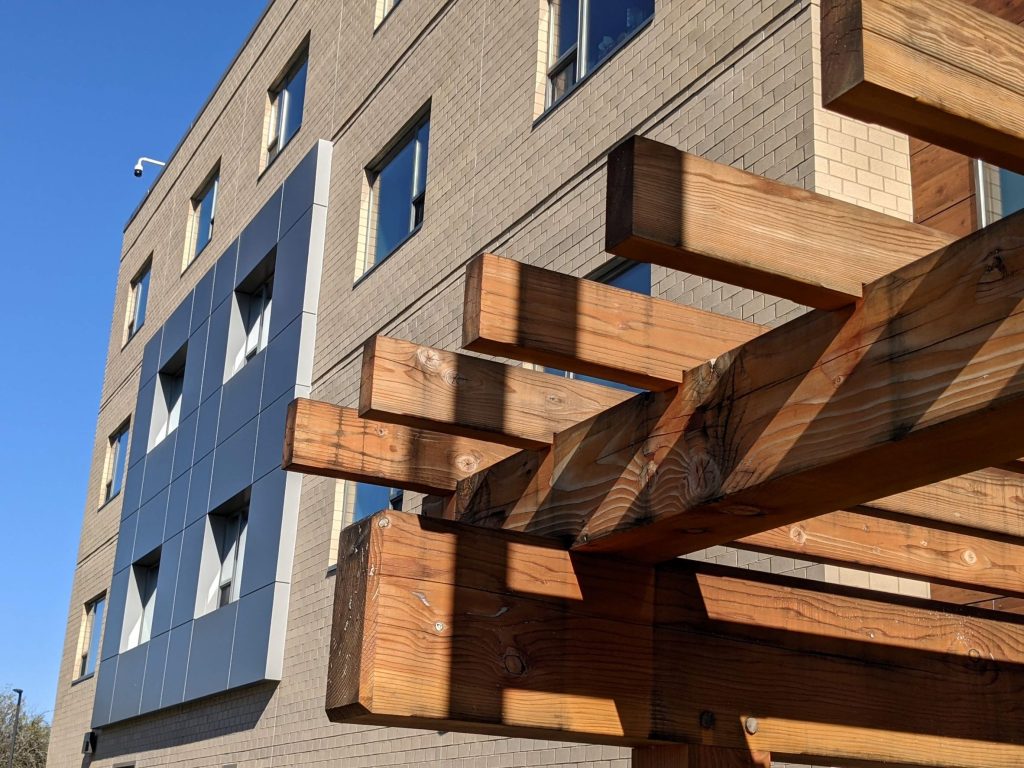 Being a primarily technological school, most of SUNY-Poly's academic buildings are covered in silver scales or metal panels, with strong geometric shapes. When you drive into campus, the first thing you see are the large, sleek-looking metallic academic and research buildings. It's clear you're at a tech-heavy college. And those large silver scaled rectangles in the building facade aren't just randomly applied. Behind them is where the student lounges for each wing are housed, so you're seeing the academic component of the building expressed in the building design.
The neighboring residence halls have Adirondack-style porticos (entryways), and wood-look panels were added for extra emphasis and warmth. Sitting at the top of a hill above campus and views of the surrounding countryside, it's clear you're near the woods, engaged in nature.
And the earth-colored brick was selected for its natural aesthetic and durability, and low SRI (helping with global warming). Brick is also a much more sustainable material than more cost effective materials, since it won't need painted or re-sided in a few years. And you'd never know by looking at it, but the brick was laid by a brick-laying robot, SAM! Brian worked closely with the team at Construction Robotics to optimize the building design to maximize the talents and abilities of this great new technology.
Hilltop Hall – SUNY Polytechnic Institute at Utica
Owner: SUNY Polytechnic Institute at Utica/DASNY
Developer: Hueber-Breuer Construction
Contractor: Hueber-Breuer Construction
Architect(s): WTW Architects (Design)/HKK Architects (Record)
Project Architect: Brian DiPietro
Project Manager: Brian DiPietro (WTW)/Jamie Williams (HKK)
Delivery Method: Design-Build
Construction Type: Metal Stud & Steel Deck
Project Size: 259 Beds/ 77,500 SF
Construction Cost: $27.5M
Completion: Summer 2021
Sustainability Rating: Net-zero Carbon Certified